Jolly Banner lands the Premier Cup under Matthew Poon. Photo by HKJC.
21/06/2020
By David Morgan, for the HKJC.
Jolly Banner (114lb) showed plenty of vim for a veteran as he battled past younger rivals to win the G3 Premier Cup Handicap (1400m) at Sha Tin on Sunday, 21 June.
"Amazing – he's an amazing horse," trainer Ricky Yiu said after the eight-year-old maintained his record of winning at least one race in each of the six seasons he has raced.
And, fittingly, the faithful stalwart edged his handler closer to a first premiership title, with Yiu bagging a double to take his score to 61 wins; extending to a five-win lead over Tony Cruz.
"It's encouraging! That win's very important," Yiu said, with a hopeful smile.
"Jolly Banner has won a Group 3 at 1000 metres but this is his best trip. With the light weight he can fly – he's a different horse with a light weight.
"We've always spaced his runs; we run him every two months – seven or eight weeks – so he came here in perfect condition. Health-wise there's nothing wrong with him and that's why he's maintained his performance at eight years old."
Matthew Poon drove Jolly Banner to his first success since that previous G3 win, the Bauhinia Sprint Trophy Handicap (1000m), at odds of 89/1 back in January 2019. Poon was in the plate that day too.
"This is one of the best and most memorable horses to me," Poon said after the Lonhro gelding's resolution saw him emerge deep in the run between runner-up Perfect Match (113lb) and third-placed Fat Turtle (118lb).
"It was a small field and he was drawn one so I didn't have much choice, I sat behind Perfect Match; the hope was that before the bend we could peel out and see the daylight but it didn't work out that way," Poon said.
"Luckily, Frankie Lor's horse (Fat Turtle) came out a little bit and I got the room; the horse was fit and brave enough to take the gap and he ran through to the wire."
Jolly Banner claimed his eighth career success by three quarters of a length. Yiu was delighted for part-owner Kenny Cheng.
"It's great to get another Group 3 trophy with the owner; I bought the horse as a yearling and his dam is a half-sister to Makybe Diva," the handler said. "It's a very good family and he cost a little bit, AU$300,000 as a yearling; the owner is my best friend, I've known him for 40 years and I rang him and said, 'Come on, Kenny, buy this one, buy him.
"He only needed a 68-rating to come to Hong Kong and he won first-up; now he's rated 104."
Yiu is in no hurry to retire Jolly Banner either.
"If his health is good at the start of the season, we'll keep him going to the end of the year – give him another six months," he said.
Poon added: "Ricky has kept the horse fit and healthy, even at eight years old he's still giving his best."
Yiu took the finale, the Class 3 Aquamarine Handicap (1200m), with the Joao Moreira-ridden Good Luck Friend.
Yeung Dances to Group 3 glory
Dances With Dragon demolished his rivals in the G3 Premier Plate Handicap (1800m) to give jockey Keith Yeung a much-needed boost.
The rider, champion apprentice in 2009/10, nailed his first career Group race win to take his season's tally to seven wins. That prompted buoyant scenes, with trainer Caspar Fownes lifting Yeung off his feet in bear-hugging celebration.
"I'm very happy, mostly for Keith, he needed this winner," Fownes said. "I'm glad that I stuck with him and gave him the chance to do that.
"I'm sure he's needed that win to pick up his morale and just get in a good place. Hopefully he'll get some opportunities going into the new season because he doesn't do much wrong; he rides pretty good and he rides 113(lb). All in all it's a great result for Keith."
Yeung, who had posted only one win in the previous seven months, was most pleased with the support of Fownes and Dances With Dragon's owners the Wong family.
"The fact that it's a Group 3 is not that meaningful to me, in the sense that it's just a win, but what makes it meaningful for me is that Caspar and the owners gave me the ride. The horse had a chance and for them to support a jockey who has had only one win in more than six months, some would say that is crazy. But they handed me a good horse like him and they had faith in me – that really touches me," Yeung said.
Dances With Dragon has now won four of six starts since switching to the Fownes stable early this year. The six-year-old, winner of the G1 Levin Classic in New Zealand in 2017, has climbed from a rating of 83 to today's mark of 104 since joining Fownes.
Yeung was aboard for a sixth-place finish last time out but this time he settled the Savabeel gelding fifth behind the pace-setting More Than This (120lb), swept wide into the straight and powered home from the 400m point to open a wide margin on his seven rivals.
Yeung stole a peek over his shoulder as the bay passed the post four and three quarter lengths clear of runner-up Helene Leadingstar (113lb) – stablemate Southern Legend (133lb) faded to fifth.
"He's won well but he was carrying no weight on his back," Fownes said. "He's got a good spot and just sprinted away from them. It doesn't matter what he does now, he's proven that he's up to that level. He's done his job as far as I'm concerned – his first win was in Class 3 and now he's got a Group 3 at his fourth win for me so I'm very happy."
Purton opens up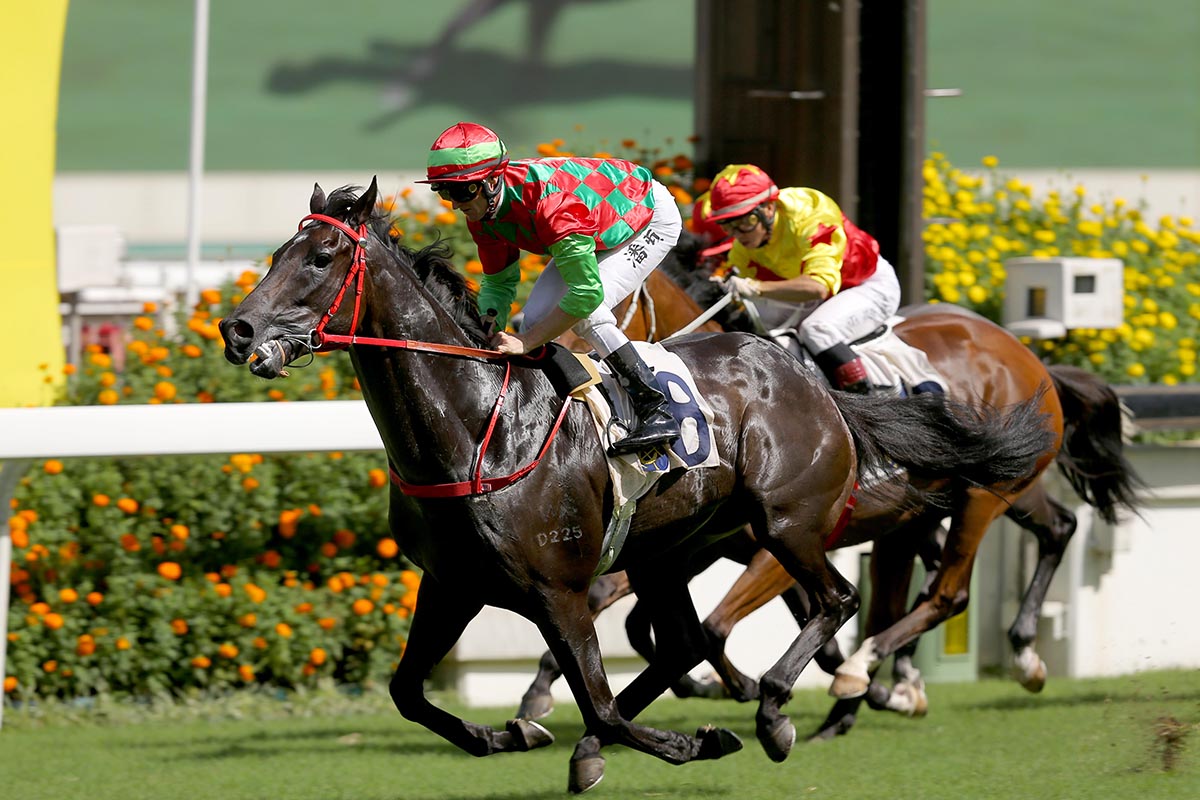 Zac Purton extended his lead in the jockeys' premiership to four wins thanks to a double. The Australian has 132 on the board to Moreira's 128 after the latter's single win.
The three-time champ struck first when Winning Brew took section one of the Class 4 Garnet Handicap (1200m) for trainer Frankie Lor and he followed up in the Class 4 Lapis Lazuli Handicap (1600m) aboard the Danny Shum-trained Regency Master.
The Cruz stable is still very much in the running for the trainers' premiership after Flying Sword took the Class 3 Alexandrite Handicap (1400m) under Karis Teetan, who kept up his excellent form with a treble.
Teetan helped trainer Michael Chang to achieve the first two across the line in the Class 4 Opal Handicap (2000m), with the rider teaming with Bullish Glory (124lb) to earn a second win on the bounce, ahead of stablemate Mister Monte (115lb).
But the pinnacle was an impressive score on the Tony Millard-trained Amazing Chocolate which took the Mauritian to 84 wins, level with his best ever season's tally. The five-year-old stormed down centre-track from deep to make it three wins from his last four starts.
That made it a double for Team Millard, jockey Antoine Hamelin having been in the saddle for section two of the Garnet Handicap, when top-weight Yee Cheong Pegasus held the green Sky Field by half a length.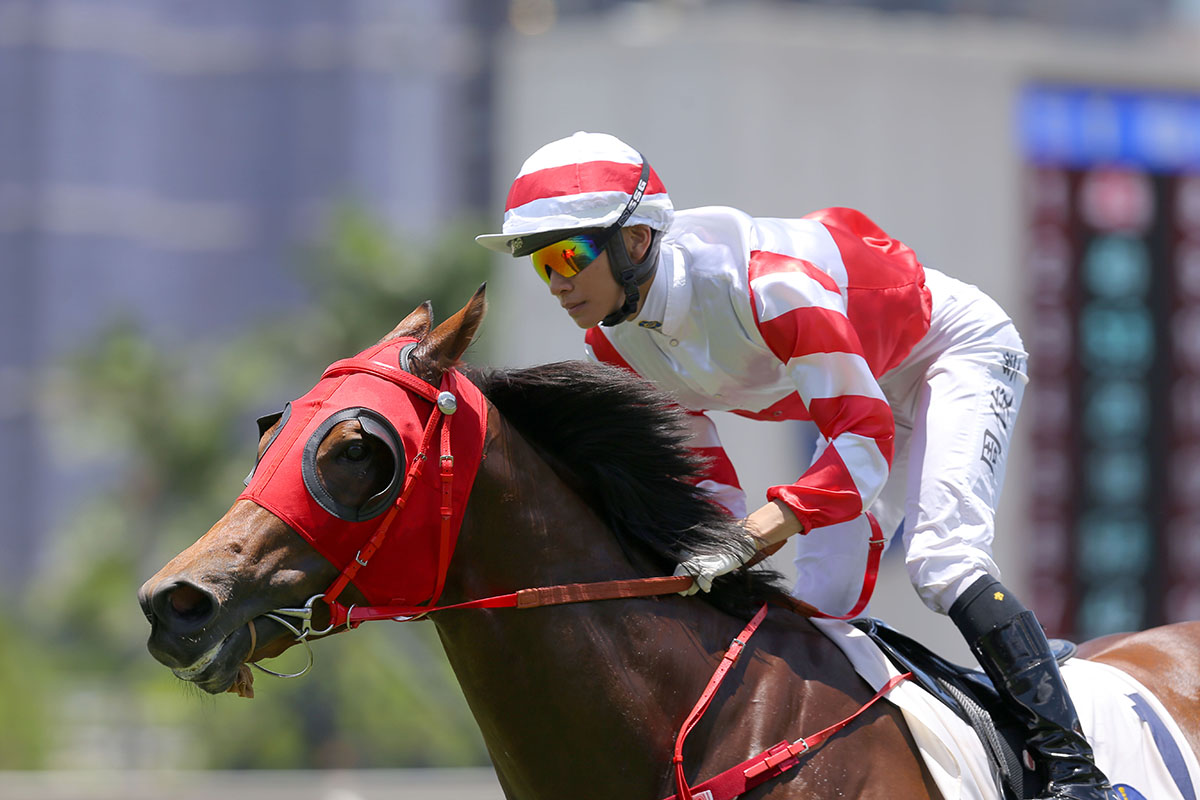 United We Stand blitzed them in the opener, the Class 5 Tourmaline Handicap (1000m). The Danny Shum-trained galloper made the most of a drop in class, Jerry Chau's 10lb claim, and a solid tail wind, to open his account at the eighth attempt, smashing the class record by 0.65s with a time of 55.64s; the margin was five lengths.
Chau nailed a double when steering First Responder to success for his boss Douglas Whyte. The four-year-old took section three of the Garnet Handicap.
Hong Kong racing continues at Happy Valley on Wednesday, 24 June.